Napa Valley Wine Tours
Napa Valley is considered one of the world's top viticulture areas and the premier California travel destination for wine lovers. Napa Valley was named after the native Wappo Indian's word for "land of plenty", indeed Napa offers an amazing bounty of fertile land, forests, rivers and wildlife. Breathtaking views are to be had year round, mustard in late winter, budbreak in the springtime, rolling green vineyards in the summer and beautiful fall foliage.
Whether you pick your own itinerary or choose to take a Napa Valley Wine Tour, visiting Napa Valley is a must. Napa Valley Wine Tours offer a relaxing way to see the valley, with an experienced tour guide you'll get an insider perspective of Napa Valley. Home to 300+ wineries, it's hard to decide which Napa Valley wineries you want to visit. Selecting a reputable tour company that specializes in Napa Valley Wine Tours ensures a relaxing day of wine tasting. They've already done the research and will take you to a range of family-owned and boutique Napa Valley wineries to large and grand. We ensure quality Napa Valley Wine Tours with friendly tasting rooms, beautiful scenery and outstanding wines with great value.
Napa's most renowned varietal is Cabernet Sauvignon. The Napa Valley wine region is a bit warmer than other California wine regions like Sonoma Valley or Santa Barbara County and its rocky hillsides are perfect for growing the noble varietal, Cabernet Sauvignon. But don't fret, you're sure to find other grape varieties on your Napa Valley Wine Tour;, Merlot, Chardonnay and Zinfandel are popular as well.
Besides wine tasting, you can explore the beautiful Napa Valley terrain by way of nature hikes, bicycling around the rolling vineyards or pampering yourself with a mud bath in Calistoga. Some of California's top restaurants are located in Napa Valley, Thomas Keller's French Laundry and Iron Chef Morimoto's namesake restaurant are just 2 of many. Be sure to make reservations months in advance, as even a Monday night could very well be booked. Don't wait to explore Napa Valley, we guarantee you'll be impressed by its vibrant Wine Country culture.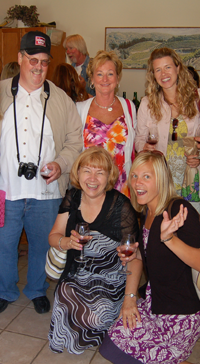 California Wine Country Tours Click Here